a fun & fast weekend
is it friday yet? wait, it's sunday evening. how did the weekend go so fast? well, at least i have a bunch of stuff to show (and tell) for it!

fun things first! the delightful
sUsAn
and i met up at a lys this weekend to put faces to our names, which was megafun. sUsAn said she could finally put a voice to my blog. i'd never thought of that and told her that if i knew that that was her agenda, i wished i'd greeted her with a deep, manly baritone instead of my typical squawky squeak. anyway, we were so excited to meet, and i think the planets must've been lined up in the yarn constellation because the lys we went to was having a sale. we walked in and were greeted with "everything in this basket is 40% off, this one is 20% . . ." and we just stood there, like hungry clownfish chancing upon some really dirty anemones. what? sorry for the image. i was tired of the typical "kids in a candy store."

this is what i got: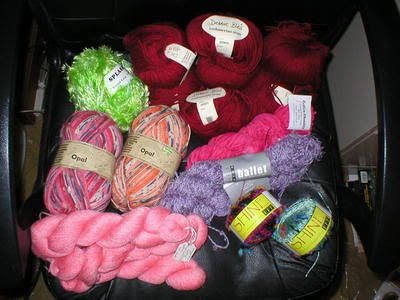 clockwise, from the top right: debbie bliss cashmerino aran, crystal palace cotton chenille, artful yarns ballet, filati ff's shine (in two different colors - mulberry and sky), some locally spun merino silk for ene's scarf (ha, like i'll ever get to that), some opal sock yarn in orange and pink, and some green crystal palace splash for marah.susan begifted me with the orange opal magic sock yarn! (thank you, friend!) and we both grabbed us some pink opal magic, which we'd both been craving for quite some time.

do you like how i didn't take a picture of this historical meeting? yeah, me too. i brought my camera. i even remembered i had it when i dropped it (inside my purse) as i knelt down to check out a yarn clearance basket. but i totally forgot to say cheese. oh well. you'll just have to imagine the meeting. insert my manly baritone voice and you can have some audio to dwell on.
here's a project update: i am currently sashing up kyoto, and once that's done, it's all downhill from here. (take that anyway you like). apparently they say that the hardest part of this sweater is the putting together. since "they" could be someone big, hairy and mean, i will try not to anger them and will struggle every second while putting kyoto together, just to make sure i don't prove "they" wrong. (that should read "them," but i was going for the effect.) cross your fingers or, if you can, your toes. i can't, but i need all the luck i can get.

and here's an fo - the peacockial scarf. it's done using some teal choo choo (crystal palace) and some olive colored trendsetter eyelash. marah's new marshmallow peep is modeling it for us.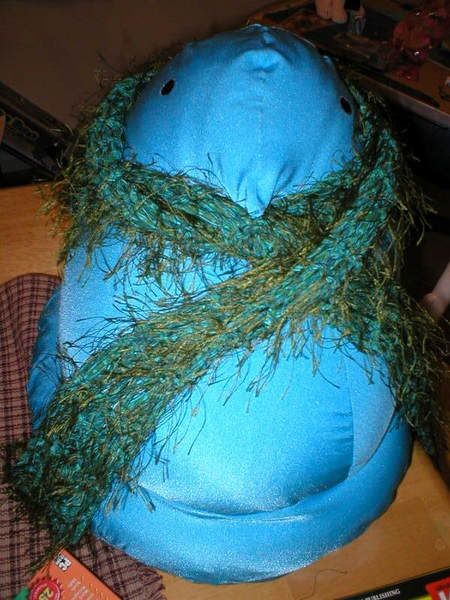 speaking of models, i am tired enough to admit that i spent about six hours yesterday watching america's next top model, season 3. susan, did you put something in that water you gave me? anyway, there were no marshmallow peeps, but the girl who won has the last name of "pig"don, so i guess that's close enough.

to sign off, here's a shot of marah and gabe at last weekend's maple sugar demonstration. gabe's holding some maple sugar cotton candy. *insert shudder here* that stuff is sweet with a capital cavity!