is it safe to come out now?
because last week was a big meanie! i had shared the continuing story of cloudy (who is doing much better, meow, thanks), but i didn't tell you about the herniated disc in my neck, or about the tooth i chipped while munching on a pretzel rod, did i? let's just say i made plenty a physician happy last week with my bemoaned state. fortunately i have a humdinger of a mama, who happily came over and took charge until i felt better. thanks, mom!

speaking of pretzels, did you know that in the mid-atlantic region, the average annual per capital consumption of pretzels is twice the amount in the rest of the U.S.? apparently, we each eat 4 lbs a year compared to the rest of you all, at 2 lbs. so, what else do you all snack on?

i have no super segue to go from pretzelspeak to this next topic, so pretend i gave you a real clever one and chuckle here as you continue to read.

my first mittens are completed! these were from a pattern in bev galeskas's felted knits, and they were a very quick knit.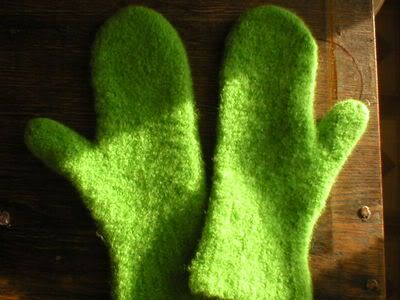 they called for size 10 dpns, but i used 10 1/2's just for the sake of cheapdom. the yarn is nature spun worsted weight in color 109 - spring green. these only took one skein, since each one has a whopping 245 yards. the felting only took a few minutes on these, and they're a perfect fit. woooooooo! now all i need is some snow (none of this melted crud that's outside right now)!

yesterday i was raok'ed! allena of starknits sent me these pretty little stitchmarkers. they're so cute. i had admired the heart one on her blog, so she made sure to send that one to me, along with a pretty red and yellow one: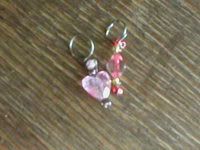 thank you, allena! you sure made my day!

question for you mozilla users out there - is my blog illegible? sweet colleen , the subway knitter, told me that on mozilla, my orange words blend into my orange yarn background - my second background isn't showing up. i checked it out, and she sure was right. i changed my second background to a bland puce-vomit color, so i'm hoping that helps.

another question - does anyone want to make me a new banner for my blog? this one is boring (i did it so i can say that). i'd like something a tad bit more fun. at this point, anything would be more fun than what i have, so you know, the sky's the limit. if anyone has the technological prowess to do this, i'd appreciate it!

before i sign off, i wanted to share a shot of marah's knitted cat toy with you. she learned the skills of fringe and knit two together on this project. she liked doing fringe; she didn't like k2tog. i offered to show her how to make the fringe all one length, but she wanted the fringe to fall over cloudy's face like those car wash things hang over your windshield. i think she did a great job! her new project is a turquoise (her fave color) washcloth - she's learning the fun-loving yarn over!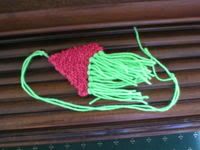 lastly, beware of this creature. he will shoot you and get you in the mood - but in the mood for what, i'm not sure. perhaps a veggie burger?