a list
i can't find any way to link together anything i have to post about, so i'm listicizing today:1. i love february. we're still in winter (yay, snow!) but spring is in sight (yay, wildflowers & birds!). aside from that, february is the home of valentine's day - my favorite holiday - and my birthday! i posted a few months ago that yoko ono and i share the same birthday. you have to understand how cool that makes me feel (humor me - not many things make me feel that way!).2. i got this yummy rowan magpie thru eBay: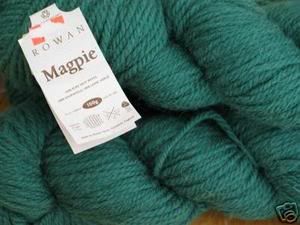 i loved the price, and i love the color. heck, i'll go all out here - i just plain old love magpie. rowan has stopped making it (the dummies), so i'm grabbing it as i can. i know our lys still has it in stock (thank goodness the lys owner is a pack rat), but hers is at non-discontinued prices (translate=$13 per skein). it's such a thick and cozy wool. i won 3 skeins of it - just what my stash needed. i think i hear it groaning already. oh wait - that's just my hubby, looking at my paypal history. 3. oc watchers - dude, what's up with sandy? he's a fool. i think those eyebrows of his are applying pressure to his brain or something.4. i'm running the girl scout day camp this year for our area, and our theme is the middle ages - you know, renaissance, medieval stuff, etc. i've got some ideas going, but i'd appreciate any others - craft ideas, games, etc. if you have any, pass 'em along, please! this would be for girls ages 5 to 17.5. sweet honey! i was raok'd! check out this sweet little dip bowl and valentine's day spreader: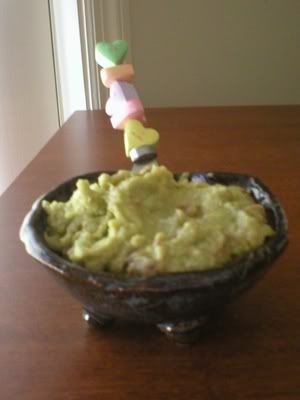 thanks, wendy g! she also sent cloudy some fun kitty toys (and i got some conversation hearts and heart-shaped confetti). what a sweetie! btw, the bowl came without the guacamole. i just happened to have made some yesterday, and it went perfectly in my new little dip bowl!6. i'm finally enjoying kyoto. i heard the sleeves were horribly boring, but i'm actually enjoying them. the seed stitch cuff is just so sweet and intricate, and now i'm at the stockinette stitch part. yeah, that can be pretty ho-hummy, but it's perfect for watching my favorite tv shows. it's like a sock - great tv knittin'.7. but i miss sock knittin'. i have some great opal magic sock yarn waiting for me, but i need to get kyoto done. plus the lucy bag. . . i'm currently in search of some pink opal magic (#1043) sock yarn - if you have some burning a hole in your stash bin, please name your price! someone used it on the sock it to me! sock knit along, and her pink feet look so cute! 8. finally, what cd burning software do you all use? we have deep burner, but it keeps malfunctioning. dh just ordered nero, which i'd used and loved before, but i've got some friends waiting for some cd's and mixes, and i'm tired of waiting. what do you all use?that's it - except for a little cloudy update. she's doing great! the litterbox is now her friend. unfortunately, she did such damage to the downstairs rug (which was already pretty shoddy) that we're putting in laminate floors. hooray for house projects (not really, but i'm trying to fool myself into doing the work)!