my funny valentine
does anyone remember when ralph malph sang "my funny valentine" on happy days? well, i'd like to share with you the details of my very funny valentine.

my valentine is so oddly funny. his sense of humor is so subtle and dry, which is one reason why i'm so attracted to him. he and i love to sit and watch shows like family guy with tears in our eyes because we're laughing so hard. fortunately, our darling children have the same sense of humor. otherwise, they'd just think we're weirdos. there's time enough for that line of thinking when they hit teendom.

my valentine is also very sweet. he knows what mama likes. see? proof is in the pudding, er, presents: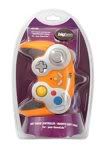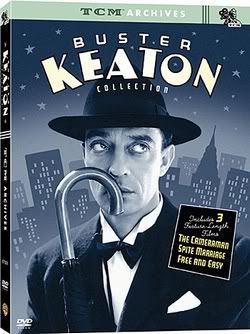 (that's an orange sharpie, diet dr pepper (he got me two bottles!), an orange gamecube controller, and a buster keaton dvd set.)

but most of all, my valentine is very loving. he'll miss the latest episode of teen titans just to fix my parents' computer. he'll come home hungry and tired from work at 9:30 at night, after having just eaten his first meal of the entire day only minutes before, but he'll still sit and read to the kids before they go to bed. he'll run to Office Max after working on a sunday afternoon in order to get me ink and paper for the printer so that i won't fret about the papers i have to print. he'll take my place as day camp director when i do stupid things like stand on a wet log and break my leg. and he'll sit and patiently unravel my tangled yarn while i just sit there and watch tv.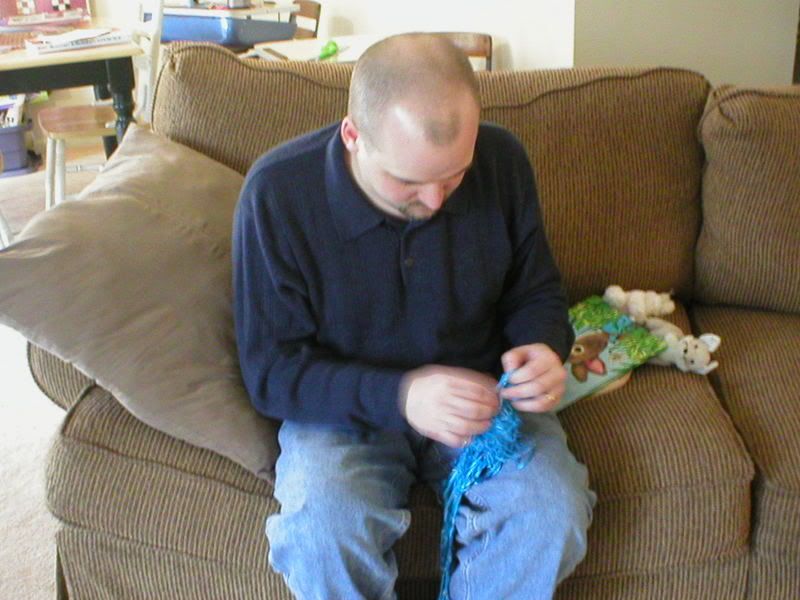 hey valentine. i love you. you're incredible, and i'm blessed. thanks for loving me.

END OF MUSH - END OF MUSH - END OF MUSH

sunday was a great day. i met up with heather and rachel marie at gallery 141 for some knitting fun! rachel brought her sweet little baby, elvira - isn't she cute?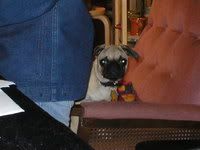 she carries elvira around in a baby sling. it's too precious.

here's heather, working on her big kureyon hat, and rachel, wearing her valentine scarf. at the bottom of each end are some of her handmade felted beads.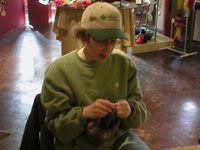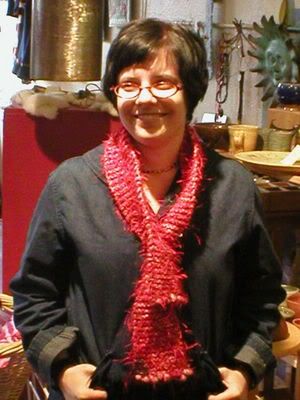 and just for proof that i am indeed working on kyoto, here's a shot of me wearing one of the (unseamed) sleeves, which i've recently finished:


i have one more sleeve, the sash, and then the seaming to go, and i'll be all done. i can't help but be psyched! look, even this guy is excited for me: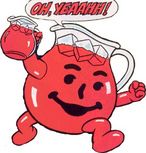 thanks, everyone, for your help with the whole cd burning issue. i finally figured out how to use windows media player and immediately burned away! thanks for all of your input. it's highly valued and appreciated!
happy heart day!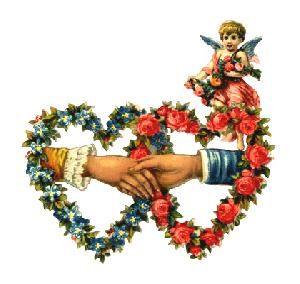 note to secret pal - thanks for the valentine! it was the only one i got in the mail, which made it doubly special. thanks!