hip hop hooray!
this little guy just hopped in to say hi!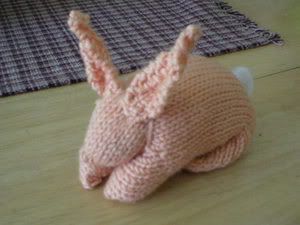 actually, he's no "little guy," he's a little hefty. i think he thought that if he had carrot cake instead of just plain carrots, it'd be the same difference. wrong, dude. your cotton tail is getting lost on your big bunny booty!

this was a fun knit. i did use the baby cashmerino that my wonderful secret pal sent to me, with some size 5's and this pattern, and i knit away. all in all, it took about 3 hours to do. fun, quick, instant gratification, and cute. what more could a restless, impatient knitter ask for in a project?

good news: my homeschoolers knitting club is growing! we are actually running out of space, it seems. the girls are doing great work. some are knitting scarves, one is doing a hat out of some black bernat boa, and some are just doing practice pieces. marah is working on a washcloth (turquoise, her favorite color!) these girls are awesome!

here is marah's washcloth: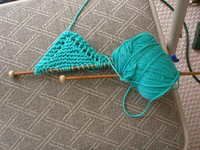 however, some of the other customers at the bookstore where we meet are so incredibly mean. this one guy had me so upset, i was fantasizing about pouring a nice piping hot mocha latte over his balding fat head. he was so annoyed that we had the area reserved, that he even sassed the employee who was helping me set up. when my girls showed up, he said "my God, we're surrounded." what a *insert your favorite curse word here*! things like this really get me bothered, and they shouldn't. i guess i can never believe it when people are blatantly rude, even though i should know better. sheesh. if he wanted to read his book in peace so badly, he should've bought it and scampered away to his hovel of hate. cheapskate weirdo grumpbiscuit.

anyway, it was fun to watch the girls go crazy over my stash giveaways. i had a bunch of yarn ends and things i don't plan to use,and i put them in a box for the girls to rummage through. so hey, if any of you have any remnants or the skein-ends that you want to get rid of, i'd be happy to help you find them a new home. these girls love getting yarn! feel free to email me if you have something you'd like to dispose of, and i'll give you my address. thank you!

now, onto another question - do you need a passport to go into canada? we're going to be so close to the land of maple leaf when we go to maine this summer, and i think fdr's vacation place is around where we're going to be staying - but he vacationed in canada. i won't pay $75 for a passport just so i can see where fdr sipped his lemonade. i love my presidential history, but not enough to part with that much buckage. anyone know?