i love lucy!
i finished her up this a.m. here's cloudy staking her claim on the pre-felted version: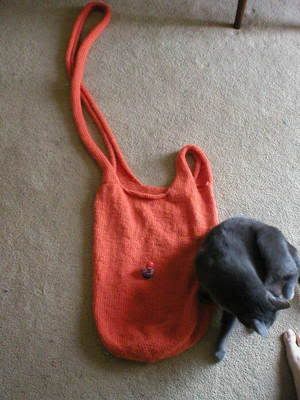 for size reference, that's a weeble sitting on it (one of three childhood toys i still have), and there's my big toe in the bottom right corner.

and here she is, being blocked.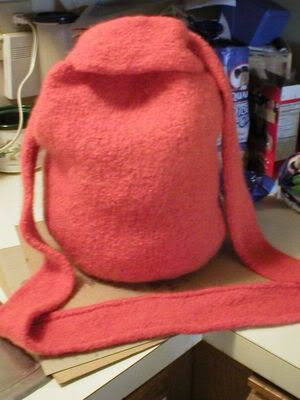 stats: i used 10 1/2 circs and straights, 3 skeins of lamb's pride "orange you glad", and the pattern is the lucy bag from two old bags. fun, easy, and quick. excellent for that mindless knitting while watching american idol.

lucy ended up being a nice, large bag. marah (my dd) says she's really looking forward to finding my cell phone in this bag. marah enjoys sarcasm and moonlit walks on the beach.

check this out! one of the girls in my homeschoolers' knitting club made this for me: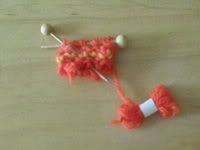 it's a little knitting pin. she used orange yarn! isn't she a sweet coolie? thanks, a!

mmmmm know what i had for breakfast this morning? here's a clue: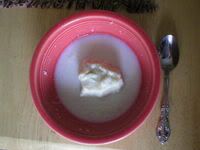 yeah! it's cream of wheat, baby. i love cream of wheat! i like to make mine very lumpy so that you have to chew it infinite times before it goes down. it has to be made with lots o'milk and sugar. oh yeah!

but i guess i should've added some green food coloring, since today is st. patty's day! so have a happy one, everyone!