kyoto ky-oops!
i had pledged to myself that i wouldn't post on my blog until kyoto was done. i had grown tired of saying "i'm still chugging along on kyoto." i could've just reworded it, but the message would've been the same - kyoto wasn't done!

but now she is. however, there's a catch. in fact, there are two catches - these two road blocks that are on my chest that make kyoto seem shorter in the front and longer in the back. i want this blog to have unscary pics, so you'll have to deal with a body-less shot: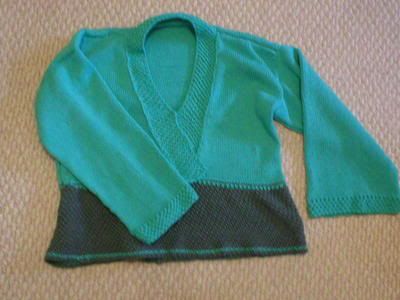 so i gave it to marah. she has yet to develop, uh, road blocks, and while it looks a little big on her, it's very cozy. she had wanted me to make one for her in the same colors (she was the one who chose the color for the sash, anyway), so she got it earlier than she expected! (p.s. i hope my gentle readers know that i'm not bragging about said road blocks. i'm pretty disgruntled, actually.)

specs: four seasons roma in aruba aqua & jo sharp summer soho cotton in sailboat; size 5 circs. i didn't modify the pattern in any way, except that i added onto the length of the torso when my sleeves ended up not being centered correctly. instead of taking off the sleeves i had slaved over, i undid the cast on edge of the back portion of the sweater and added a few rows - sweater surgery!

would i make kyoto again? not for myself, but i would for someone else. it was a fun knit, but it certainly wasn't a quick one. my next project is the "70s suede jacket" in the 2005 issue of knit it. i tend to not like a lot of the patterns in that magazine - they're kind of, oh, i don't know: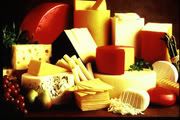 -y

but this one's cute: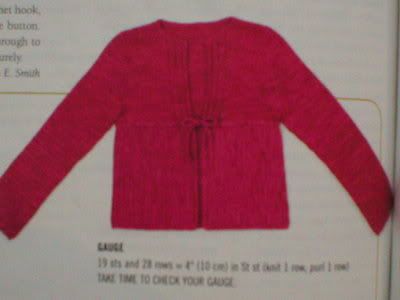 i'd like to do it in the berroco suede that is called for, particularly the shade named wyatt earp. however, being the mom of two young children and one income, i'm not about to spend over $100 for yarn for one sweater. so i'm currently trying to find a substitute. i don't want wool, because i don't want anything that will pill. i'll probably search for a fun ribbon yarn that would make this very springy and light.

in other knitty news, i frogged lucy. i know you were all so kind in saying that she didn't resemble tigger, but i couldn't take it. every time i picked her up to work on her, all i could see was this: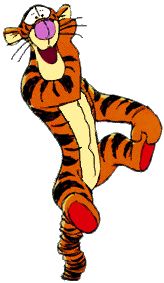 don't get me wrong, tigger can be cute. mostly i found him annoying, though, and tended to identify more with the morbid eeyore. thanks for noticing. anyway, lucy is now on her way to being clad in pure orange delight. ahhhhh. but i want to thank celia for her kind post and support!

non-morbid update: my wonderful secret pal sent me a second prezzy. look what i got! a needle case for my dpns! now i have the one my mom made me for my regular needles, and a special case for my double pointed babies. thank you, secret pal! your talents amaze me!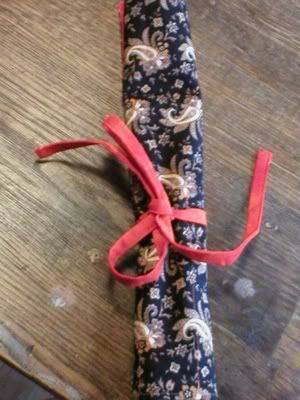 well, today's our homeschoolers knitting club meeting. and it's snowing! hooray? hoowrong! why, just yesterday, it was 68 degrees! it was so nice that the kids and i searched for signs of spring, and found several, in a nature hike at a local park. looks like it's back to looking for animal tracks in the snow! *sigh* i think mother nature has her winter hat on too tight.