after a week of hacking our way through the dense, unfriendly woods ...
. . .my girl scout troop and i finally reached civilization, where we made merry with large liters of diet dr. pepper and endless vats of fettucine alfredo. okay, well i may be stretching the truth a little. we actually never got lost, we were only there for one night, the woods were rather friendly, i didn't get to celebrate with any diet dr. pep because it was all gone when i got home (ahem, hubby? you got some explainin' to do!), and i had a filet o'fish instead of the fett alf, but you get the idea. i was happy to get home. i loved camping and being with my daughter and the rest of the troop, but gosh, i missed my boys! (and cloudy, too!)mike kept busy while i was away and finished up the floor downstairs: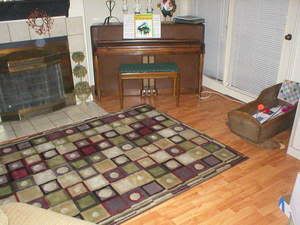 great job, hun-bun!our food turned out great, except for the poor orange cakes. to refresh your memory: we were to scoop out an orange, pour in cake mix, and bake them over the coals. well, our coals were leftover from our monkey bread at dinner time, and we never thought to do up some fresh ones. so the cakes weren't done after the prescribed 15 minutes. or 20 minutes. or 30 minutes. after 40 minutes, we decided to give it up and feast on the cookies people had brought instead. the cakes did smell divine, though. they were just, uh, overly moist. here's a shot of marah and her dear friend, L, who no longer has a black box over her face:
so anyway, i haven't blogged in over a week:gabe's periodic fever syndrome + mike's far away clients = very little computer time for memike's back, and gabe is better now, so voila, here i am. i am late in my thanks, too. my secret pal revealed herself a little early because she is currently away. julie was my pal, and she was so sweet, kind, and generous. thank you so much, julie! her grand finale present was the following:a cone of classic elite (my first cone!), two soft wool/mohair blend skeins in glorious orange, and a needle case to match the ones she had sent me. let me tell you, julie is a very talented gal! she's also very kind, as she sent marah a needle case, too (marah now feels so knitty!), along with a little glow-in-the-dark sheep, and gabe got a neat little telescope/compass gizmo. thank you, julie! you're a sweetie!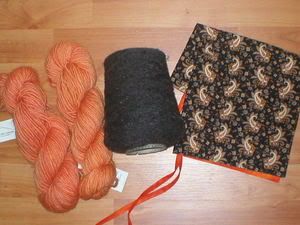 i also received some sweet raok's this week - marina sent me some luscious lavender sachets that smell just absolutely divine, and jenn, aka knitwit momma, sent me some beautiful knit picks sock garden yarn in "daffodil,"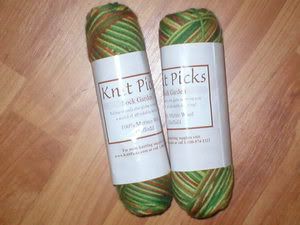 along with a great cd with 80s hits. i can see my madonna lace gloves and white duran duran shoes now . . . ah, the (embarrassingly) good ole days . . .oh, here's some proof that i'm actually knitting - two wips:the pink opal socks (using yankee knitter classic sock pattern)
and the 70's suede jacket (done in berrocco cotton twist instead of the suede) from the 2005 knit it! magazine:

i'm still only on sock #1 of the pair. i just have had no time. the sweater right now is actually just the bottom half of the cardigan from whose top i will eventually pick up stitches to do the rest of the body. it's pretty dull knitting at this point, but that's what i think i need - just "veg knitting," if you will.and here's one fo - a "yo, drop it!" scarf for my sis's birthday. it's done in giglio ribbon on size 13's i think. i can't remember what i used, needle-wise. it was a week ago - give me a break! it looks jumbled up in the photo b/c it's doubled up and lying on itself: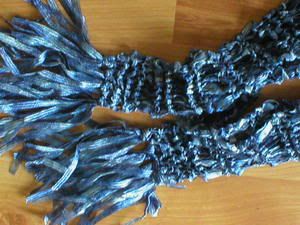 thanks to everyone for their camping well wishes, as well as patience with me for not blogging or leaving comments on blogs. honestly, it's just been a bit of a struggle trying to keep myself together and going these days, with all the things swirling around this way and that, but my world's still turning at the end of the day, and i guess that's all that matters. have a great rest o' weekend!