i'm floored
it's been quite the weekend here at ye olde orange homestead. one of us had the brilliant (read with sarcasm) idea to redo the flooring. see, our old carpet, which i fondly renamed as "stainmart," was, well, stained. and smelly. remember that old cat-ignores-litter-box problem little cloudy had a few months ago? although she is doing better, the carpet was still wearing her battle wounds, and they were rather pungent ones at that. so we rolled up our sleeves and replaced the floor with some laminate. it has made a huge difference. poor cloudy, however, seems a little at a loss and can't figure out why her litter box away from home has vanished.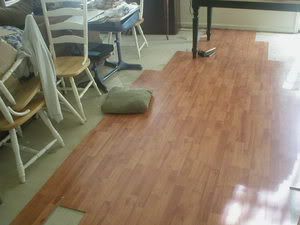 the worst part of the whole project is that when the builders of our home originally poured the cement for the floor, they thought it'd be funny if they didn't pour it evenly, so laying planks of laminate on an uneven floor has been a true delight. argh.

hey, secret pal! thank you for the beautiful circular needle case you made! my secret pal is the most crafty, talented secret pal evah. she has sewn me a little bag, a mini dpn case, a regular-sized dpn case, and now this lovely circular needle case - all out of the same orange-oriented fabric. thank you so much, dearie!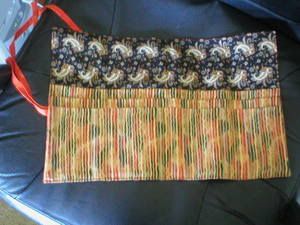 i also got some really sweet prezzies from some awesome raok'ers. check out the cool note cards and lamb's pride sent by amanda at clothesknit. she also sent a cappuccino filled chocolate bar, but gee, it seems to have disappeared. okay, i just didn't want to shoot a pic of an empty wrapper. thank you so much, sweet amanda! that was a lovely surprise indeed!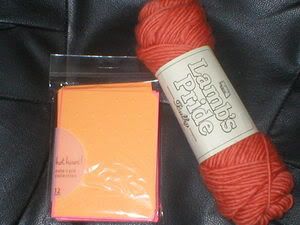 then, today, i got another raok from abby, the knitlette. she sent me this 2-ply jamieson and smith shetland wool that she dyed with wilton. how beautiful! i'm really looking forward to making something lacy and orange :P thank you, abby! you're a sweetheart!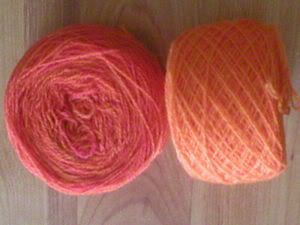 aw, yeah! i almost forgot to mention that my berrocco yarn finally came in! it is bee-yootiful. check it out: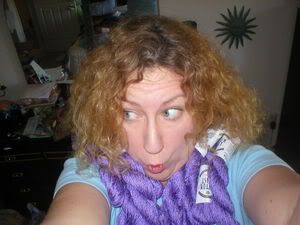 bad self-portraits are fun!


20 skeins of pure violet delight!
now i can finally start this up: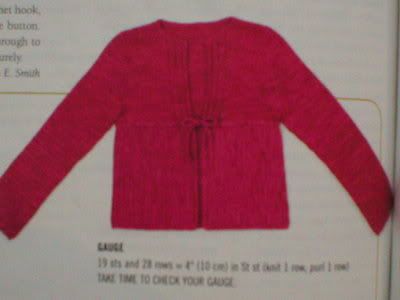 i was worried that spring would pass me by and i'd still be waiting for the yarn for the darned thing. patience, my child. patience.
lastly, i may have mentioned this before, but my darling hubby, the mikemachine, has a fascination with any and all things japanese and chinese. he found this one website where this lady will send japanese snacks from her catalog to you. his order came in the other day (enough to feed a junk food army), and it contained yummy things like macadamia nut oreo bars, banana split sundae pocky sticks, and qoo drink (made by coca-cola). we opened up our big box o'cavities right after we finished day one of working on the floor. it was fun knowing that i had pre-paid my fat grams in advance and could eat what i wanted!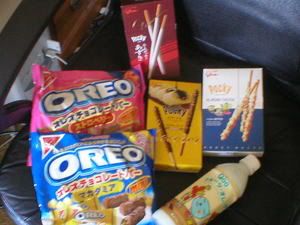 lastly, if you're in the market for a new felted bag pattern, you have to see the panes bag from trish, the bloomin knitiot. it's really quite cool!
happy monday (oxymoron?), all!