i'm a fool
because it's april fool's day, and i didn't prank anyone! i just plum forgot. (do plums forget a lot, hence that expression? just wondering.)i haven't been blogging much, and i'm sorry. it occurred to me last week that the kids are up to day 146 with our homeschool, which means we have 34 days left, officially. this also means that we have to get crackin' and work hard to finish up our subjects. in our state, we're required to homeschool for 180 days. we can definitely go beyond 180, but i like to be at a certain point in each subject when we reach that day. since the days are a-dwindlin', there isn't much free time to blog and what not.or knit! i simply have had no time, unfortunately. therefore, i've made very little progress on my pink opal socks, (about 6 inches done out of 7 on the leg of one, count 'em - one, sock) and absolutely no progress on clapotis. the yarn still hasn't come in for the 70s suede jacket, and while my yarn did arrive for the hourglass sweater, i still have to get the needles. whenever i get a chance to run out for some, it's usually evening, and no lys is open. i wish ours were open later around here. they keep bankers hours. i wonder if bankers knit? if they do, they better think twice about going to a lys for supplies after work. good news! gabe lost his first tooth. he's very proud:
unfortunately the one that he lost WASN'T the half-broken one on the top. i'll get you, my pretty. and your little roots, too.i'd like to thank two wonderful knit bloggers for their kindness. first, denise sent me some really pretty wool for a nice pair of mittens. thank you, clever and creative denise! check out the terrificool sergeant pepper's postcard :)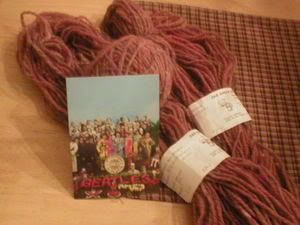 then, today when i got home, there was a package from the generous jenn. inside was a huge selection of yarn for my homeschoolers knitting club (which meets this tuesday!). thank you, jenn! you should've seen my daughters' eyes popping out of her head when she saw it all. between jenn's recent send and the earlier send from the lovely lauren, my homeschool knitting girls are going to have one fun stash dive! thank you!one fun thing i did find time to do this week was run to jo-ann's for some material for some capris. i made some two years ago, and they're so fun and easy to make. the pattern's a cinch. anyway, i had been bitten by the sewing bug two years ago, but my broken leg last summer kind of put all creativity on hold (except for knitting, which was very easy to do while lying on the couch, watching passions). now i am def more mobile (did i sound like a rapper when i said "def?") so i'm happily rebitten. yay! i'm a sewer again! :p
i'm a sewer.