oh yeah!
check out the creamy goodness that is red bean ice cream: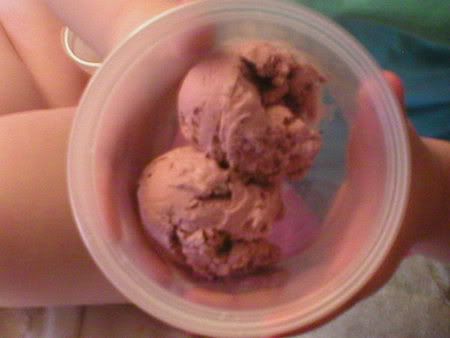 mike worked so hard on the floor today and was really in a bad mood, worried that he wouldn't get it done. well, he's about 96% done! it's nice to have a little bit of good old normalcy back in the downstairs of our home. seriously, what is it about redoing a room in your house that makes the whole place go batty? anyway, i thought i'd reward him with one of his favorite desserts of all time. anyone else out there a fan of this stuff? it tastes great. kind of like chocolate goes exotic.

i have very little knitting news to report. well, i actually did finish up something, but i can't show it until this weekend, after i've given it to the person who is getting it for her birthday! she knows who she is . . . but she doesn't know WHAT it is. ha! sorry, sis :)

aside from the downstairs being a mess, i've also been busy with girl scout stuff. this upcoming weekend, our troop is going camping. okay, we aren't roughing it at all, but we're still camping! just because the place we're staying has a cathedral ceiling, two bathrooms, a full kitchen, electric heat, two floors, etc. doesn't mean we aren't really camping. we're cooking all of our meals outdoors. that means something, right? the one thing we're having that i'm excited to try is "cake in an orange," where you cut an orange in half, scoop out the pulp (and use for something like fruit salad), mix up a cake mix, pour it into the half of orange, and then cook it on the coals. of course, i love oranges because of their color, but i really love orange flavored cake. i'm looking forward to that and the other things we'll be doing (earth day theme - lots of fun recycling crafts!), but the forecast is for rain both days. i can easily adapt all of our activities and meals indoors, but i don't want to have to!

at least i'll have tomorrow - our first wildflower hike of the season. i'm psyched! it counts as school for the kids (i even made up a worksheet for them to help them identify some of the flowers we'll see), and it counts as a pure dose of happiness for me. i live for spring and wildflowers. among other things. here's a shot of some dutchman's breeches i took a few years ago - i hope i see these tomorrow!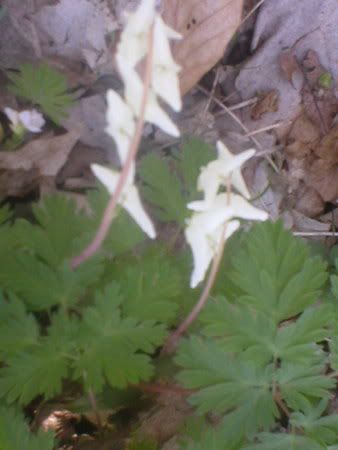 i've got a shout out to give! hey
rox
, thank you so much for the yarn you sent for my knitting club! rox, aka fearless knitter, sent a bunch of encore dk and other fun things. my girls are going to love this so much! thanks for your generosity!

well, keep your fingers crossed for sunshine this upcoming weekend, please! and have a great beginning o'the week!